Fiber Network Investment and Expansion
Posted: 7.8.2021
Topics: News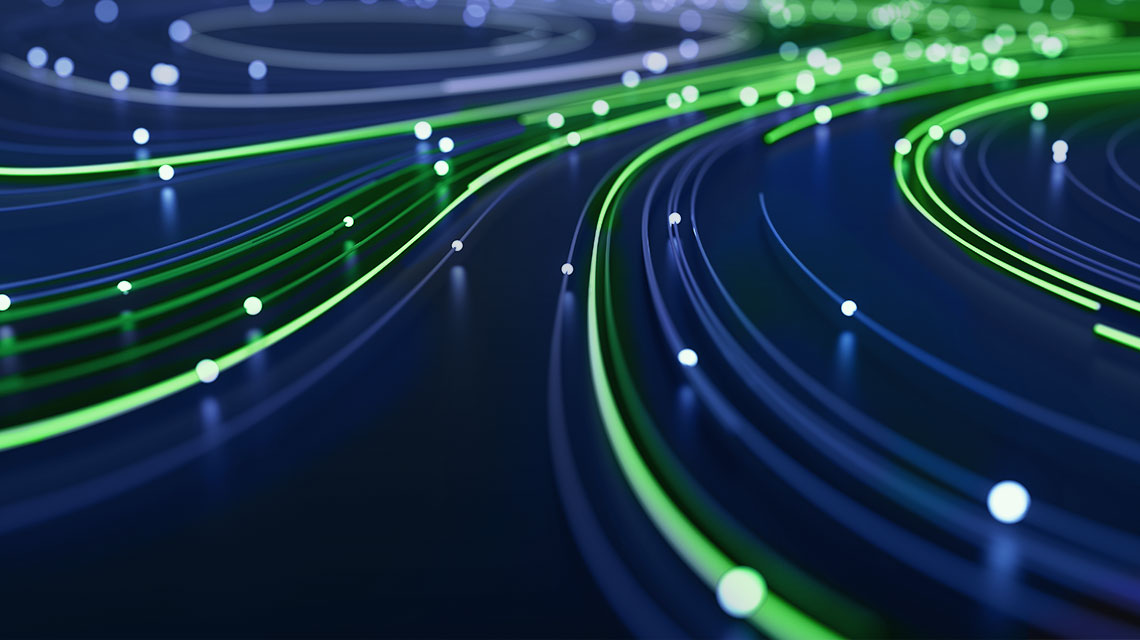 Networks bring the world closer together. Our connectivity shrinks the distance between us and promotes collaboration. Every day, Midco's fiber network connects more businesses, mobile providers, remote workers and farmers to their neighborhoods, family or coworkers – and beyond.
That's why we're moving ahead with Fiber Forward, a $500 million investment to pave the way for Midco customers to experience the best of 10G – a seamlessly connected smart world with technologies that will reinvent the way we live and work.
"Just a few short years ago, a 100 Mbps internet connection was considered amazingly fast. Yet, we continued to innovate, deploying gigabit to our Midco footprint," said Jon Pederson, Midco's Chief Technology Innovation Officer.
"The pandemic then turned the world upside down, forcing people to work and learn from home. It created an intense need for video conferencing and other high demand applications. Our network performed remarkably well, due in large part to that gigabit upgrade. We know technical innovation will accelerate. Fiber Forward ensures our network can support whatever revolutionary technology comes our way."
The future is fiber.
Midco is leaping ahead with Fiber Forward, an expansive investment that uses the company's robust fiber network and next gen fiber tech to bring 10 Gig (10G) speeds to the region.
Investing in Our Network
Midco is part of a global partnership of providers aimed at helping networks stay ahead of the digital progress underway in our world. Our network investments will ensure fast, symmetrical speeds, low latency, unmatched reliability, extreme compute capabilities and rock-solid security for the broadest range of customers. This is a long-term commitment.
All new builds will be fiber-to-the-premises (FTTP), and upgrades to existing systems will be fiber-focused, bringing the network even closer to our customers.
We have grown outward to interconnect with major internet locations like Denver and Chicago, and leveraged our existing network to reach more "near-net" customers, in both rural communities and areas.
Midco has made significant investments to build redundant fiber rings in both rural and urban areas across our network, adding capacity our core network infrastructure and further enhancing our 99.999% core network reliability.
The Future of Business Is Fiber
From remote health care diagnostics to a virtual world of holodecks or interactive video walls, technological innovations are endless – and ever evolving. Meeting the needs with a state-of-the-art fiber network is an expansion of Midco's already advanced network architecture.
"We use fiber as a backbone transport – known as internet highways – when aggregating internet traffic from one side of the network to the other," said Eyabane Patasse, Vice President of Technology.
"This practice leverages the super speed, high capacity, resiliency, low-latency attributes of the fiber medium. With this latest fiber initiative, Midco is expanding the fiber portion of the infrastructure to all our business subscribers."
When complete, Midco's Fiber Forward investment will deliver fiber to businesses using advanced fiber technology solutions – doubling the Midco Fiber Network to 22,000 fiber route miles.
"Fiber Forward ensures our network can support whatever revolutionary technology comes our way." — Jon Pederson, Midco Chief Technology Innovation Officer
Advanced Network Engineering
Midco engineers, combined with our Network Operations Center (NOC) team, ensure that our network always operates at peak performance. Our engineering staff has invested more than 800 hours testing our network against the Metro Ethernet Forum (MEF) standards.
We've also taken steps to ensure our infrastructure can accommodate exponential growth in bandwidth demands, while also providing necessary redundancy and augmentations.
By doing so, multiple Midco network services have achieved the MEF 3.0 Carrier Ethernet (CE) certification, demonstrating our adherence to some of the industry's most stringent network requirements. We also have multiple engineers and support staff who have earned MEF Carrier Ethernet Certified Professional achievements.
A Connection for All
One of Midco's values is to be a force for good in the communities we serve – large and small. Midco is an active partner with the Federal Communications Commission's Connect America Fund (CAF) – a program aimed at decreasing the digital divide by expanding broadband availability to unserved, or underserved, Americans. Our nearly $40-million CAF grant enables us to provide a viable broadband internet connection to 200,000 new households, many located in rural areas, over the next few years.
We're reaching CAF buildout areas and other rural communities through our Midco Edge OutSM strategy, where we "edge out" high-speed internet from the Midco fiber network to rural areas using point-to-multipoint fixed wireless technology. Fixed wireless successfully supports long-term connectivity for farmers, ranchers, work-from-home teams, community members and small businesses.
We also interconnect with more than 100 other networks across the country – and work to ensure that everyone has an equal opportunity to receive affordable, reliable telecommunications services. Essentially, Midco connects you to anywhere in the world – meaning our reach is truly unlimited.
Secure connection backed by a local provider.
Take advantage of Midco's vast, privately-owned network. With service level agreements, dedicated support and 24/7 monitoring by our Network Operations Center, you can count on us to keep you connected.
Request a Consultation Find a Consultant Call 1.800.888.1300